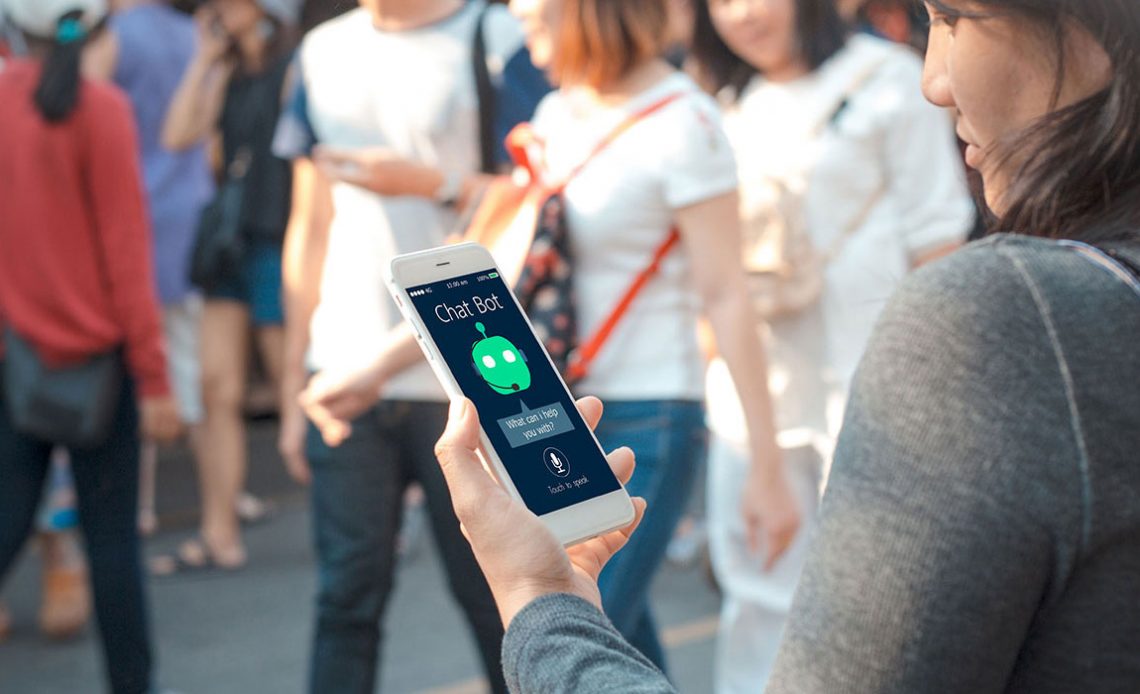 Messaging apps are enjoying a golden period of being on top of charts all over the world, and with that chatbots have been in high-demand now. Chatbots are simply automated AI-based software that interacts with users via text, speech, messaging, or telephony services.
WhatsApp Business, Facebook Messenger, Telegram, Slack, and WeChat are some examples of chatbot integrated applications. Facebook took giants leaps by revolutionizing the Messenger and WhatsApp Business application. The apps provide huge opportunities for businesses to reach their target audience through better-curated experiences at lower costs.
Tweaking the APIs according to customer preferences, and providing hands-on support to customers has helped a lot of e-commerce businesses. That is the reason why chatbots are becoming a requirement in e-commerce and other major businesses, and we at Radius Digital have helped a lot of SMBs with business-oriented chatbot development and implementation.
The stats below depict how chatbot usage evolved over the past few years.
Customer Service
Scaling customer service with the least cost has been a major issue for brands. The consumer market is huge, with over 2.2 billion online buyers worldwide, chatbots serve as a rational solution for brands. Small and medium-sized businesses spend over $1.5 trillion yearly to manage their customer services.
Implementing chatbot service could drastically reduce the CSR cost by 32%. AI-powered chatbots assist support agents by saving 60% of their work hours and this lets them resolve other tasks faster. Do you know that the average waiting time was 3min 18sec in 2019, and this can be reduced with the help of chatbots? Chatbots can easily automate over 85% of customer concerns.
Usage Statistics
Chatbots have become much popular in youth who are well-versed with AI-based technology. According to recent stats, 73% of youth claimed to have a healthy and positive experience with chatbots whether it was over chat, call or email queries. The usage has been huge in the last few years with 53% business managers claiming a rise in ROI over the use of chatbot service.
More and more SMBs reported positive customer feedback and improved complaints resolution with the help of chatbots. Today, over 25% of business customer services are being taken care of by AI chatbots. You can be the next one, all you have to do is simply ping us to get a custom chatbot service quote for your business.
Customer Preferences
Recent stats show that customers usually prefer chatbots for handling minor issues like exchanging/returning a product, or changing contact details, etc. A twofold increase in consumers willing to engage with chatbots was recorded in 2019. 73% of online users prefer to interact with chatbots for basic inquiries. 45% of consumers don't care whether they are being served by a human or a bot as long as their queries are resolved. 80% of consumers find instant replies valuable and efficient.
For example, brands have set up chatbot services for their Facebook pages & WhatsApp Business account, hence catering to the customer query instantly. The 24/7 availability of chatbots was found useful by over 60% of consumers.
Communication Apps
Communication apps have truly transformed the way we communicate with friends, family, and businesses alike. Over 1.5 billion people are taking advantage of messaging apps and are acute towards communicating with conversational chatbots. Just to blow your mind away, there are over 300k + chatbots on Facebook Messenger and nearly 60% of customers are willing to be served by them for solving a problem.
Chatbots ensure over 30% better ROI than programmatic marketing techniques. 75% of youth claimed that their brand preference and perception depends on the quality of the customer experience they provide. It means a swift response to customer queries might earn you an improved brand image. You can also integrate chatbot services on your website too. If you need any help with that then don't hesitate in contacting us for inexpensive chatbot pricing and services in the UAE.
Voice Search
Machine learning algorithms and AI have come a long way to provide ease to users with minimal human effort. Technology giants such as Google and Amazon are already working on more personalized product and service searches over voice for individuals. The most popular keywords in voice search are "what", "how", "top", and "best". More than 25% of total Google searches are now voice-based. 72% of smartphone users are happy with voice assistants like Bixby and Siri (both are chatbot services). 30% of people are likely to call a local business after searching and finding it via voice search.
Automated chatbot services and IVR can provide your customers with a more advanced, swift, and personalized experience! We at Radius Digital are keen on providing all types of chatbot services like adding ML and connecting your chatbot to LOB (line-of-business) apps, data warehouses, or ERP. You can have a powerful tool that makes conversations more productive and engaging for both the customer and your business. If you want a 'great conversationalist' built out for your business then simply contact us.